LeesonBound® Stonebinder, the Strongest on the Market
20 January 2023 – Leeson Polyurethanes is proud of their LeesonBound PU4844 product for its strength and quality, and believes it is the best on the market.  We decided to put that to the test by comparing it with four other brands that are available and, using our own lab equipment, the technicians set to work to determine the strength of five samples (LeesonBound plus four competitors).  The results were even better than expected.
The Technicians at Leeson Polyurethanes are committed to continually analysing our products to check the performance standards and quality. One of these tests is flexural testing, which determines the strength of a material product, and was performed on LeesonBound PU4844 7.5kg system along with a number of Leeson Polyurethanes' competitors' similar systems. To measure the strength of the PU4844 LeesonBound system in comparison to the others, a three-point bend testing method (see fig.1) was performed on cured test specimens of polyurethane and aggregate, which involves placing a sample between two points and initiating a load using a third point.  Maximum stress and strain are calculated on the incremental load applied.  The results demonstrated that the strength quality of LeesonBound performed significantly better, making it the outstanding choice on the market.
To independently verify the results obtained during the in-house testing, samples were sent to an independent laboratory which specialises in chemicals and materials analysis and backed by experienced impartial professionals who hold the ISO 17025 UKAS accreditation.
The laboratory were sent unmarked samples of PU4844 and the four resembling resin systems which were prepared to identical sizes using exactly the same aggregate (as different aggregates can have different strengths), thereby the only variable being the resin.  The lab used a universal testing machine and, under the same conditions, tested each sample and recorded the results.  The report concluded that the LeesonBound PU4844 7.5kg system performed the best, being almost twice as strong as its competitors.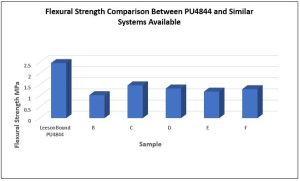 What this means for the installer is the confidence that LeesonBound PU4844 is of the strongest quality, and this has been independently and professionally verified.  In turn, the customer will have the assurance that they are paying for a product to be installed that is durable and robust enough to cope with heavy trafficking without cracking or breaking up.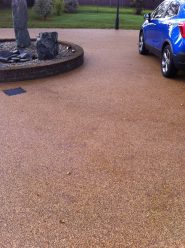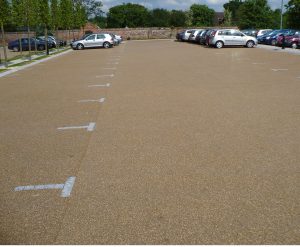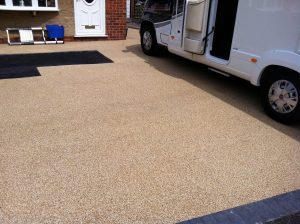 Back to News